Hi!
How has storytime been going? It has actually been going better at our house! My bug has been looking at her books a whole bunch (and has some obvious favorites) but she has finally started to bring them to us to read to her sometimes now too. And she lets us read them! She used to just turn the pages however she felt, but now sometimes she will let us read some of the words. It is kind of nice and I really love that she is coming to books on her own.
In fact, book is one of the words she uses regularly! It melts my heart a little bit when I hear her say it. Of course, it sounds more like "boo" than "book" but I know what she means :)
Anyways, as always, I have a couple of picture book reviews for you! I hope you find something that you can use for your own storytimes with your littles!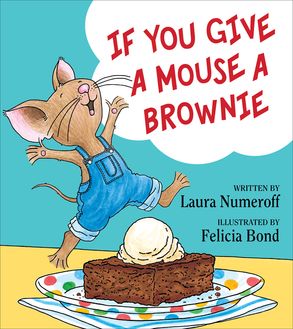 Title: If You Give a Mouse a Brownie
Author: Laura Numeroff
Illustrated: Felicia Bond
Series: If You Give... Books
Publisher: HarperCollins
Publication Date: October 18, 2016
Source: Purchased
Rating: 4 Stars
I absolutely love this series of books, so you can be sure that I was extremely excited when I learned a few months back that this one was going to be coming out. I just knew I had to get it! I was counting down the months and then the days until I could go out and pick it up.
And I am so glad I went and got it.
Like always, Mouse is up to his normal mischief. Except this time we start it off by giving him a brownie. Then of course he needs something else, and then something else, and then something else...until we come full circle and he finds himself needing another brownie.
Silly Mouse! This new edition to the series is exactly what we have come to expect from Laura Numeroff when it comes to these books. The art work is the same as it always has been, bright and fun. The story follows the same route as all the others. It is just a new adventure for our friend to share with our littles!
This review is based on a copy I purchased for myself. All thoughts and opinions are my own.
Title: A Moon of My Own
Author: Jennifer Rustgi
Illustrator: Ashley White
Publisher: Dawn Publications
Publication Date: September 1, 2016
Source: Author
Rating: 3 Stars
This book is perfect for those with littles that like the night sky and the moon! It is all about a little girl who thinks the moon must be meant just for her as it appears to follow her around. She describes a lot of what the moon is doing and what she loves about it.
As far as the illustrations go, they are mostly of the night time sky. The girl and anything that is supposed to appear before the sky is in black solid shapes, similar to how you see it on the cover. While it seems rather simple, the sky is always very pretty and nice to look at - which was probably the point of it. All in all, the illustrations are rather soothing.
However, that all being said, the story is actually a little simple and it is very quick read through. It might be best as a bedtime story to help calm the littles down.
This review is based on a copy provided by the author in exchange for a fair and honest review. All thoughts and opinions are mine and mine alone.
Title: Train
Author: Mike Vago
Illustrator: Matt Rockefeller
Publisher: Workman Publishing Company
Publication Date: October 4, 2016
Source: Publisher
Rating: 4 Stars
Okay, this book isn't so much for the story as it is for the train. What do I mean by that? Well, you see, you can drive the train though the book! It can travel through each page as you go along, even while flipping the page!
Pretty nifty if you ask me.
Other than the train, the story that is inside is rather simple, but the illustrations. They are absolutely gorgeous and they are a great way to work on colors with your little! Each page is just so vibrant and hosts a main color theme. It is really quite nice to look at.
Your little may not even realize they are looking at a book and may think they are just playing, but that just makes this book even better.
Unless you have my kid. She has figured out how to take the train out (don't worry you can get it back in).
This review is based on a copy I received from the publisher in exchange for a fair and honest review. All thoughts and opinions are mine and mine alone.