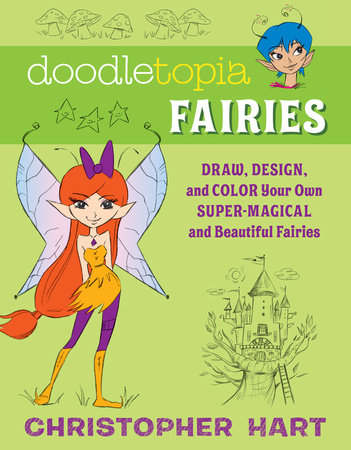 Title: Doodletopia - Fairies: Draw, Design, and Color Your Own Super-Magical and Beautiful Fairies
Author: Christopher Hart
Series: Doodletopia
Publisher: Watson-Guptill
Publication Date: October 4, 2016
Source: Blogging for Books
I don't know if you remember or not (or you may have missed it entirely) but not too long ago I wrote up a review for Christopher Hart's
Doodletopia - Manga
. You can find my review for that title
HERE
by the way. And with how much I liked the manga book and how much I love fairies, I just had to get this one and check it out.
So at first glance, this book is about what I expected after having seen and read through Hart's other book in this series. It is set up similarly with ways to draw fairies - wing styles, facial expressions, clothes, etc. Essentially everything you need to create some fairies of your own.
What I did not expect though, and I probably should have based on the artwork on the cover alone, is that these fairies are still kind of in the anime/manga style. Which is ok. It is great to know how to draw fairies in this style, but I think I was wanting to learn how to draw them more in the stylings of Amy Brown and other similar artists. You know, where the fairies seem a bit more...real and not so much cartoon.
I do like that this book gives you plenty of space to try out drawing what they are teaching you inside of it. However, I am the type of person, that despite being given that space, will still use paper from outside the book to practice and draw on. I just cannot bring myself to draw in books, even when they tell me to!
All in all, I really enjoy this book and there is quite a bit in it for me to learn which I appreciate. I wish it weren't all so cartoony, but maybe I will find another book some day to teach me how to draw fairies differently. For now though, this is a good start.
My Rating
4 Stars
This review is based on a title provided by Blogging for Books in exchange for a fair and honest review. All thoughts and opinions are my own.