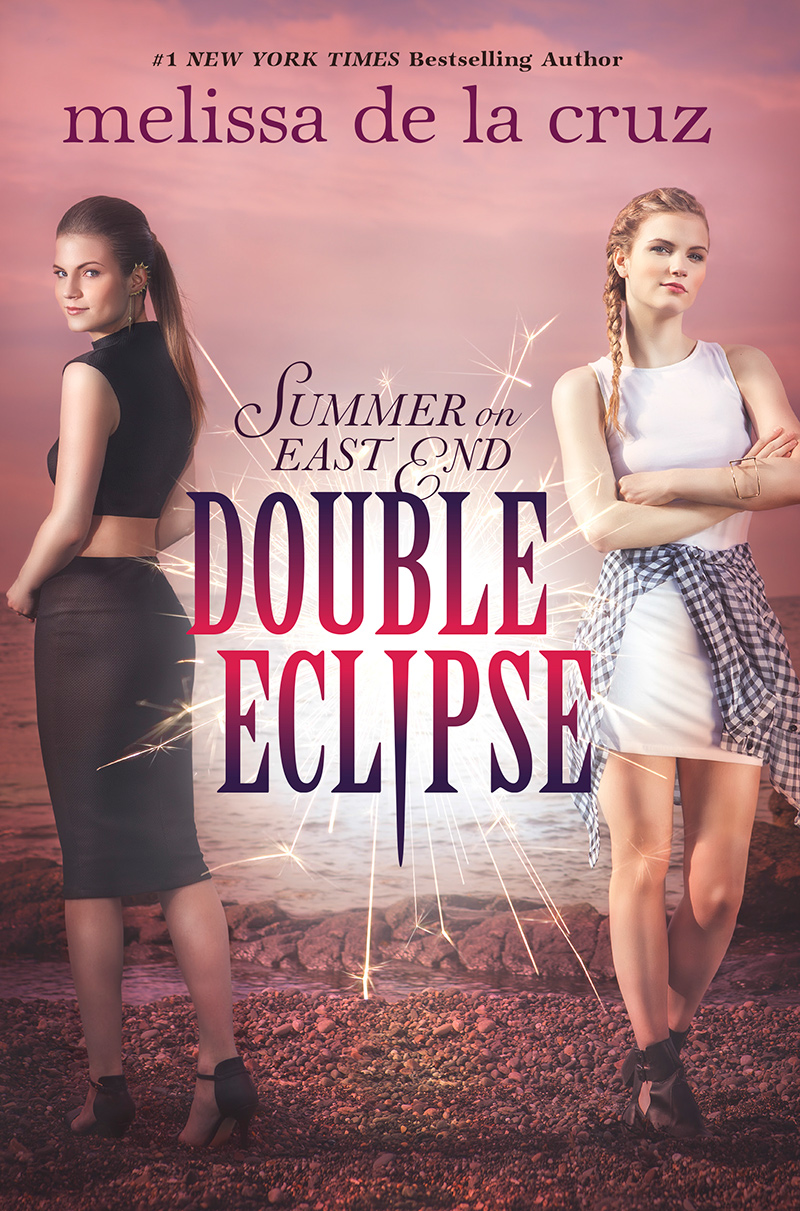 Title: Double Eclipse
Author: Melissa de la Cruz
Series: Summer on East End #2
Publisher: G.P. Putnam's Sons Books for Young Readers
Publication Date: November 8. 2016
Source: Publisher
Before we get started with reviewing
Double Eclipse
, I want to take a moment to remind you that it is the second book in the series. The first book,
Triple Moon
, is a great read if you haven't read it yet. You can check out my review for
Triple Moon
HERE
. This all being said, if this review may contain spoilers for the first book, but I will try to keep them to a minimum (really there probably aren't any at all). Continue at your own risk.
Now to get this party started!
I really love this world that Melissa de la Cruz has created! Double Eclipse is the 5th book written for this particular world and the 2nd with the teenage twins as the focus characters. I have read all of them but the third book in the Witches of East End series (the adult series) and that is mostly just because I am usually absolutely horrible with finishing series up. I don't like the stories to end, so they can't if I never finish!
So in Double Eclipse we have our twins Molly and Mardi, the twin Norse goddesses of Strength and Rage and daughters of the beloved and play boy Thor (or Troy if you want to go by his "mortal" name). And while they learned their lesson in the first book and haven't gotten into much trouble in the past year, they are again spending their summer in East End with the cast of characters that we came to love in the Witches of East End series. Yes, that is right, once again we get to see Freya and Ingrid and a few other familiar faces. Sadly though, they are very much just back ground characters, but we still get to see them again and that is always nice.
In this book the girls discover who their mother is and from there things get all topsy turvy. Molly keeps having a strange dream. There are boys. There are prophecies. There are strange things happening.
Pretty much it is exactly what we have come to expect from Melissa de la Cruz when it comes to this world and all the crazy goings on that happen in East End. And the twins have to figure out how to navigate it all.
So before I get into what I really liked about this book, I really need to get into the one thing that really really bothered me when reading this. And I have no idea how it didn't bother me so much in the first one, as I know it was in that book as well....but there is just so much name dropping of rich super pricey items in this book. It really started to get annoying. I mean great...pricey cars, super expensive clothes, crazy expensive alcohol for underage teens (I know they are goddesses, but this is only their first incarnation! Can we get a responsible parent please?)...it was just sooooo much. And it was all over the place. I really could have done with a lot less of it. I understand that they are rich girls and that they come from A LOT of money, but it doesn't need to be pointed out in such a way and over and over again.
Other than that though, I liked it. As I said earlier I really like this world. So much goes on in East End and the cast of characters is just awesome. I love the whole concept behind East End and the Norse mythology that is built into the story - even if sometimes I find the mythology and stuff a bit hard to follow with how it is written. There is just SO much!
And the characters. While I like both Molly and Mardi, I definitely have a favorite twin. I think it is probably hard not to. While they are similar, they are still very different. And this allows us, the readers, to be able to identify more with one or the other of them. If you are curious, my favorite twin happens to be Mardi (my favorite sister from the Witches of East End was Ingrid if you are curious).
And the story was very interesting. It kept me wondering. I couldn't quite figure it out even though I thought I should be able to. It was like it was right there in my face the whole time. Of course I had some suspicions, but nothing I really wanted to call out. I just couldn't be sure.
A great addition to this world, I cannot wait for the next!
My Rating
4 Stars
This review is based on an ARC provided by the publisher in exchange for a fair and honest review. All thoughts and opinions are my own.
a Rafflecopter giveaway
Enter for a chance to win one of five (5) hardcover copies of
Double Eclipse
by Melissa de la Cruz (ARV: $18.99).
NO PURCHASE NECESSARY. Enter between 9:00 AM Eastern Time on November 7, 2016 and 11:59 PM on November 18, 2016. Open to residents of the fifty United States and the District of Columbia who are 13and older. Winners will be selected at random on or about November 21, 2016. Odds of winning depend on number of eligible entries received. Void where prohibited or restricted by law.
Follow the Tour