Hi everyone! I hope you have been having fun exploring your creative side in various ways since last month. I know that I have. I keep acquiring beautiful adult coloring books - I have a serious addiction now, I can't help it.
In this months feature of Explore Your Creative Side, you will find an adult coloring book, a book of recipes that you use that ever popular, never going out of style Jell-O in, and a fancy cookbook for braising, roasting, and grilling.
I hope you find something that peaks your interest and will help you explore your creative side further. I really enjoy reviewing creative/crafty/artsy/cooking/hobby filled books for you guys.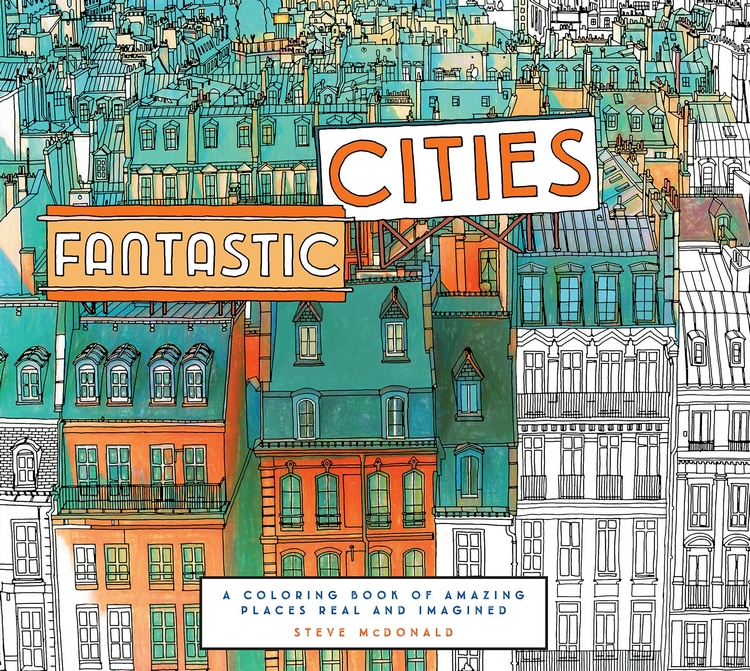 Title: Fantastic Cities - A Colorful Book of Amazing Places Real and Imagined
Author: Steve McDonald
Series: Stand Alone
Publisher: Chronicle Books
Publication Date: August 11, 2015
Source: Friends Copy
Rating: 4 stars
You will get a lot of hours of calming, relaxing coloring from this coloring book. The pages are filled with very finely detailed drawings, all relating in some way to cities. All most all of them cover the entire page.
The paper is of a thicker quality. It should allow for marker use. However, the pages are double sided, so I would still use markers with care.
There is also A LOT of very fine detail. And I mean very very fine. This is not a book for those who do not like to have a lot of very small spaces in the things that they color.
The biggest downside to this book, in my opinion, is that the pictures are kind of dull. I guess there is only so much you can do with with drawings of cities, but I would have liked a little more variety. Everything is very repetitive, especially in a given picture. It does let you create the variety yourself with your coloring though, which is a great way to work your creative side.
In the end, I was pretty impressed.
Amazon
|
Barnes & Noble
|
Goodreads
Title
: The Magic of Jell-O
Author
: Jell-O
Series
: Stand Alone
Publisher
: Imagine
Publication Date
: April 1, 2014
Source
: Netgalley
Rating
: 5 stars
The cover of this book really does not do it justice, so do not let the cover deter you from picking this one up!
This book has 100 different Jell-O based recipes for you to try. All of the look really tasty, and some of them look really cool (like the one where you make an igloo!).
The majority of the recipes look really easy and there are quite a few that don't require much effort to make. And when I say easy, I mean easy. I am the most impatient person in the kitchen. If I glance at a recipe that has what I deem too many steps (like more than 5) I won't even think about trying it and looking into trying it at all.
I think I am going to have to get myself some boxes of Jell-O and make some of these tasty treats!
This review is based on an eARC provided by the publisher via Netgalley in exchange for a fair and honest review.
Amazon
|
Barnes & Noble
|
Goodreads
Title: Slow Fires - Mastering New Ways to Braise, Roast, and Grill
Author: Justin Smillie with Kitty Greenwald
Series: Stand Alone
Publisher: Clarkson Potter
Publication Date: November 3, 2015
Source: Blogging for Books
Rating: 5 stars
This cookbook is HUGE. I was blown away by the size of it. I know cookbooks aren't typically small, but I still wasn't prepared for the size of this guy. I received my copy from
Blogging for Books
in exchange for a fair and honest review, so I had no idea what to expect of it. It is too new for me to have seen in stores. I was quite honestly blown away.
Aside from the introduction, there are 4 sections to this cookbook: braising, roasting, grilling, and foundations and finishes. There is just so much to this book! It is perfect for anyone who loves to do any of the above and to explore the wide world of cooking.
That being said, I would say that a lot of the recipes aren't necessarily what you would think of making on a normal day. I think of them as being a little bit more fancy. This book isn't filled with hamburgers and hot dogs. Instead it has recipes for things such as: Grilled Duck Breast with Charred Greens, Grapes, and Celery (pg. 236), Farro Porridge with Sweet and Savory Winter Antipasto (pg. 137), and Summer Clams in Corn Milk with Fresh Corn Relish (pg. 72). Obviously these are just some of the recipes that you can find in this cookbook as there are many many more.
Unfortunately, not all of the recipes come with pictures. If they did this already huge book would be ginormous! Some of the pictures aren't all that appetizing either, but that is because they aren't of the actual food plates you would create. In stead they are of the food items: fish, pig, octopus/squid. They all have the same type of photo quality to them that the cover does; a bit of a darker touch.
Slow Fires is not meant for your every day cook. You won't be finding a meal that you will be wanting to cook after a long week day. However, if you like adventuring out with your cooking you will be happy to find some dishes that you can make at home that are worthy of high class restaurants.