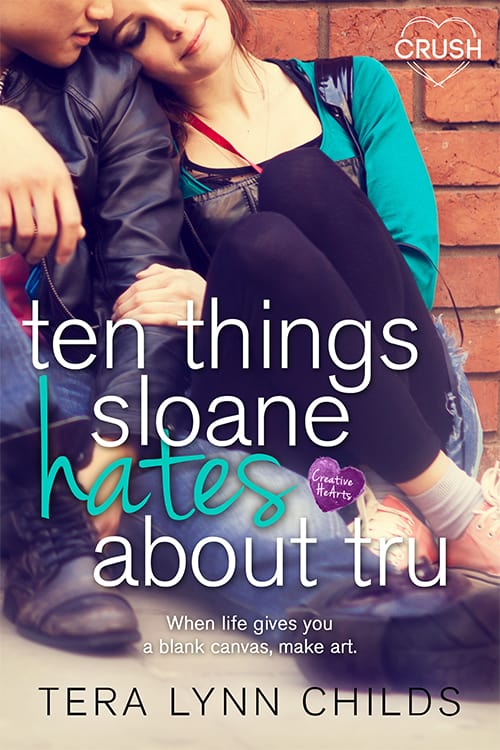 Title: Then Things Sloane Hates About True
Author: Tera Lynn Childs
Series: Creative HeArts #1
Publisher: Entangled Crush
Publication Date: September 10, 2015
Source: Netgalley
I had a rather weird reaction to this book. One that I was not expecting at all. While I was reading it I kept wanting to create art. I just wanted to pull out a pencil and draw. I wanted to take paint and splatter it against a canvas. I just wanted to CREATE something. So be warned. This could very likely happen to you too. I know it is a strange side effect to reading a contemporary young adult romance novel, but it happened.
At the beginning of this book, Sloane has just moved from New York to Texas against her will. She messed up something fierce back home and as part of her punishment, her parents decided that she would move with her Mom to a whole different place. They wanted to get her away from what they considered the bad influences and change her environment.
Sloane of course hates this change. She is mad at her parents and at herself. She has forced her family to live in two different states. Her brother and dad are back in New York and she hates that she is the reason her mom had to leave them. She also hates that they no longer trust her after The Incident (as she refers to it).
While Sloane has to change schools, she still gets to go to a very fancy art school just like she did up in New York. She loves graphic design and actually has her own web comic. Only one person knows she is the creator of Graphic Grrl and she wants to keep it that way. She doesn't want others to know it is her art, just people reading it and loving it is enough praise for her. She doesn't need the credit for it.
She is determined to get back to New York as quickly as possible and make her family whole again. She has a deal with her mom that as long as she doesn't mess up for the whole first quarter of the school year that they can go back home. She figures that sounds easy enough. Then she meets Tru.
Tru is the boy next door. The trouble making son of her moms best friend from college. According to his parents and his mom he can't do anything right. He drinks, skips school, and is an all around screw up.
And Tru is determined to get close to Sloane.
This book was so darn cute! It was very light and fluffy, but it did have some dark undertones to it. In this book these darker undertones are only just starting to be touched upon, but I think (and hope) they will be touched upon in future books.
I really enjoyed the characters. This novel was mostly narrated by Sloane, but occasionally Tru popped up and narrated a bit for us. I wanted more narration from Tru. Actually, I just wanted more Tru in general. His character is so much deeper than we really got to see. His character is something I am really looking forward to learning more about as the series progresses.
Really, I wouldn't mind a book where he is the main narrator. I think he has quite a lot to tell us. Maybe Tera Lynn Childs will make this happen for us in the future (I can wish right?)
Like I said earlier, this one is pretty light and fluffy. It is a great introduction to the characters and the world they live in. It is also a pretty quick, but very enjoyable read.
My Rating
5 stars!!!
This review is based on an eARC provided by the publisher via Netgalley