Hi everyone!
I am pleased to have the chance to introduce you guys to two fabulous authors today! I had the opportunity to read two exciting, and very different from one another, novellas - DEBBI and Let Me Fly Free and now I get to share my thoughts on both of these titles with you.
Before I share with you all my reviews though, I feel that I should tell you that both novellas are leading into book series that are going to debut at a later date. I don't know when, but I hope the authors and their publishers don't take too long in getting the first books out for both of these series!
Hmm... I am thinking that I am being a little obvious on my feelings for these novellas before even sharing my reviews.... so I guess I will just get to it!
Title: DEBBI
Author: George Ebey
Series: Helen of Mars #0.5
Publisher: Glass House Press
Publication Date: July 5, 2016
Source: Publisher
DEBBI starts out with a bang! I was pulled in immediately and did not want to stop! I did, however, take a mini break to go find George Ebey on Twitter to verify if the series would be in complete novels or if it would continue on in novella form though (complete novels fyi!).
DEBBI is mostly about Helen. A smart girl who has entered a competition to try to earn the rights to controlling a mining drone on the planet Mars. She fears that if she doesn't win, her family will lose all of their money and that they will be out on the street.
This novella was nerdy and geeky and wonderfully written. In the few short pages that we were given of this wonderful world that George Ebey has created, we get to meet quite a few characters - some of which you can tell are going to be key in the forthcoming series. And he manages to make you feel like you know them and that you are connected to them in the limited amount of time a novella allows an author to have.
Also, the video gaming aspect of the competition was amazing! The imagery that George Ebey creates is astounding and I could only wish that I could some how play in a video game like the one he created for the competition some day. The robot battles of the competition were so excellently written. I didn't want those parts to stop!
I knew this story was going to be short. That is the nature of the novella... But I still am sad that it ended. I read through the story so quickly and just wanted more of it. I will be awaiting the release of the first complete novel in the Helen of Mars series, but until then I am glad that this novella exists and that it has introduced me to this marvelous world that George Ebey has created.
My Rating
5 Stars
This review is based on an eARC provided by the publisher in exchange for a fair and honest review.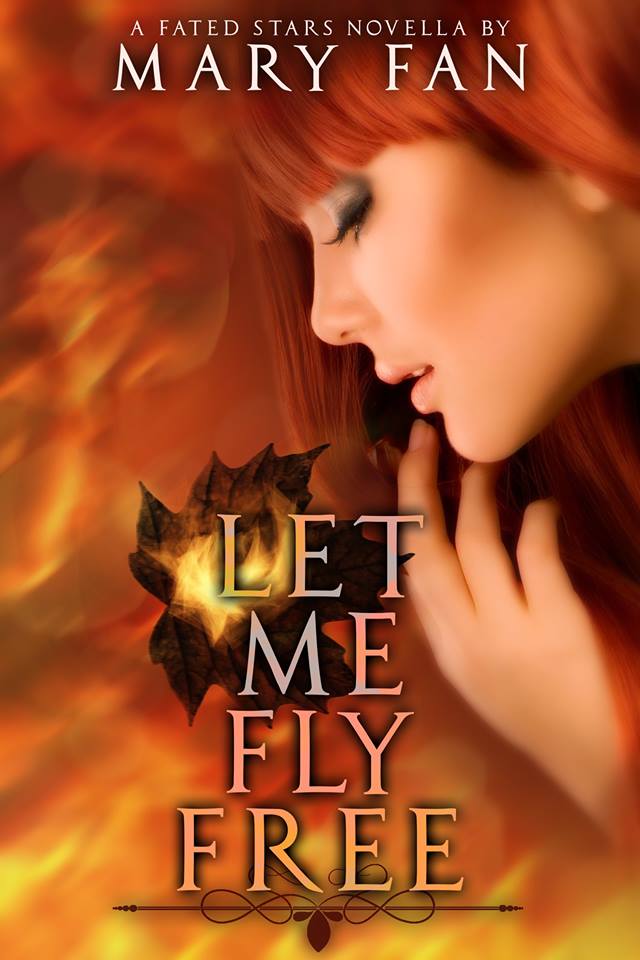 Title: Let Me Fly Free
Author: Mary Fan
Series: Fated Stars
Publisher: Glass House Press
Publication Date: July 5, 2016
Source: Publisher
Woah! So many different types of fairy like creatures in this story! I did not expect that at all! And our main character! Elaia! She is a fire nymph! Can't say that I have ever read a story before this one where it features a fire nymph!
In Let Me Fly Free we are following along with Elaia as she tries to discover what unnatural and horrible creature has broken past the barriers that the unicorns have set up around her home to keep it safe. She discovers it's presence quite on accident, and she refuses to stand by and let the unicorns find it and fight it on her own. She will not be left in the dark and she wants to fight.
Elaia, being a creature of fire, certainly has the personality that one would expect a fire creature to have. I do think there was a bit of redundancy in getting Elaia's personality across to the reader, but all in all I think her character was developed quite well for an introduction to a character. I would have liked to see more growth, but I am guessing that will probably happen within the series and not the novella (at least I hope so anyways).
The world we are introduced to in Let Me Fly Free is indeed a very magical place and I really enjoyed reading about it. All of the different creatures that we saw in the short amount of time the story took place was quite amazing. It definitely made me want to learn more of the world and the creatures within.
All in all, Let Me Fly Free gave me a glimpse into a story that I will be reading more of in the future. This novella was an excellent read and a great introduction to a magical world.
My Rating
4 Stars
This review is based on an eARC provided by the publisher in exchange for a fair and honest review.