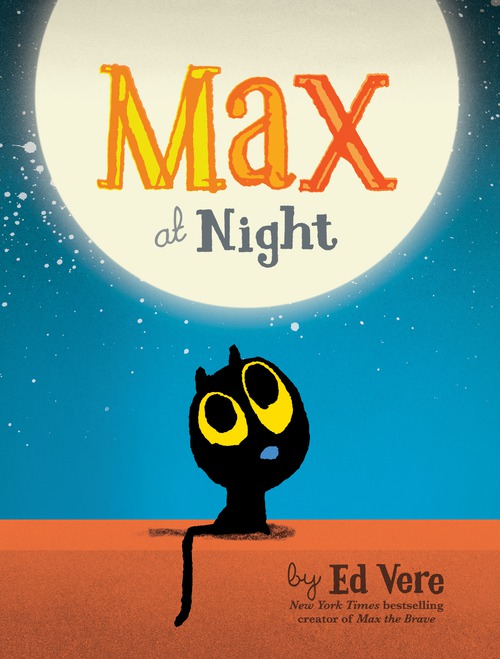 Title: Max at Night
Author: Ed Vere
Series: Max
Publisher: Sourcebooks Jabberwocky
Publication Date: September 6, 2016
Source: Publisher
I am so happy that Max is back in another book! I really liked his first book
Max the Brave
, so I couldn't wait to get my hands on
Max at Night
to see what this cute little cat is up to! In case you missed it, you can find my review for
Max the Brave
HERE
.
In this installment our little black cat is tired, but before he can go to bed he needs to say goodnight. However, before he can go to bed, he needs to say good night. So he starts saying good night to everything - a box, a fish, etc...but when he gets the moon he can't find it! Poor Max, he can't go to bed until he tells the moon good night, so he goes off in search for it.
Like the previous book, the artwork in this book is simple. Most pages consist of one bright and mostly solid color with simple art work to depict whatever it is Max is doing in the story at the time. Yet, despite its simplicity, it works. And Max is just too cute!
The story line is okay. It isn't spectacular. However, it is still a great bedtime read. We go through the getting ready for bed motions with Max and the story is, over all, a calm one. So it is a good one to help littles settle down to sleep.
I look forward to many more of Max's adventures. He is a cute cat and easy to love! Definitely a staple character for my house!
My Rating
4 Stars
This review is based on a copy provided by the publisher in exchange for a fair and honest review. All thoughts and opinions are my own.
a Rafflecopter giveaway